[1] Amy King & Natalie Smith
Title: Invisible Life
Invisible Life is Amy and Natalie's fourth collaborative project. It explores the unseen structure of the park's eco system. A series of large-scale drawings rendered with natural materials invite environmental elements to interact with the work, which depicts microscopic structures of nature on an exaggerated scale.
Amy King is a contemporary jeweller based in Wellington. Inspired by pop culture and modern society, contrasted with organic and natural forms, Amy's sculptural works of adornment evoke the uncanny. Through the use of materials and processes Amy allows the audience to speculate on the symbolic meanings of objects.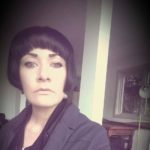 Natalie Smith is a multi disciplinary Wellington based artist.  The exploration of materials and their properties is significant to her work. She is currently exploring natural materials and fabric manipulation techniques inspired by an awareness of environmental issues and her background in textiles. 
[2] Anita Springintveld
Title: Presence of man nestled in the crook of nature's arms
An organic structure nestled beneath the branches of the regenerated forest and protected from the elements. A symbolic reminder that these basic needs are for all people and are provided by mother nature giving us a sense of warmth and security.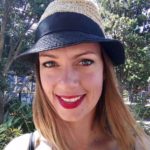 Anita Springintveld is an emerging artist with a focus on 3D sculpture and design. She experiments with materiality and working with scale, using old, new and found materials to tell stories about how we live in society.
[3] Anna Gilbert
Title: Paradigm and Revolution
A formerly accepted paradigm dismantles when the community is no longer willing to compensate for its loose ends. A different paradigm is introduced. As the community restructures its beliefs, people begin to see the world from a different perspective; their experience transforms and so does the subject. They go about skilfully harmonising what they understand with what they don't, and their vision of the world becomes ever-clearer.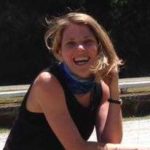 Anna Gilbert is a Landscape Architecture student. She set herself the challenge of constructing something for Upstream to test the processes that she has been learning and developing. This project was influenced by her interest in science history and the psychology of perception.
[4] Birgit Bachler
Title: Moturoa Transmissions
A networked series of interventions in the surrounding environment of Moturoa Stream that senses and monitors change in a range of variables, such as temperature, humidity and conductivity. Together these "stations" enter a conversation beyond their mere weather-reflective qualities and form a visually engaging addition to the ecosystem in which they are situated.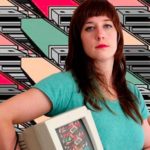 Birgit Bachler is an Austrian new media artist, designer and researcher based in Wellington (NZ). With a background in media design, digital art, and creative programming her work focuses on the influence of emergent media on our everyday lives, and how technology influences and manipulates social behaviour. Her PhD research at the VUW School of Design looks at how an 'Internet of Things' can be designed with more than human perspectives in mind.
[5] Brenda Sullivan
Title: "Co-ordinates" (The inside of an intention of an artistic apparatus)
This lawn drawing explores ideas of order and control in the natural world. The human action of cutting and shaping the grass into geometric shapes draws attention to similar forces beneath Design. The park has offered the artist space to extend out from studio-based practice and embrace the mediums of air, ground, growth, seasonal temperature and light.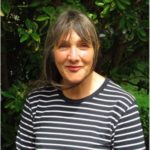 Brenda Sullivan's artistic practice involves the creation of abstract imagery through solitary studio practice. She merges this imagery with the exhibition space through active participation in the places she works and exhibits in. Brenda enjoys developing 'live' abstractions that play with the linkage of space, imagery and object. She holds a Bachelor of Fine Arts from the University of Georgia (1980) and a Master of Fine Arts from Massey University (2013).
[6] Candace Smith
Title: reCycle
reCycle is an assemblage of metal twigs woven together and through the fronds of punga ferns, before flowing on across the river and encircling a woven sphere. Ideas of movement, connection and transformation are suggested.
Candace Smith works in an assortment of found, salvaged and crafted materials, constructing assemblages, often in unexpected places. Photography and ceramics are mediums frequently incorporated. Originally from South Africa where she studied fine art and practiced jewellery design, Candace is interested in discovering the green spaces of Wellington, how they are woven into everyday life as commuter routes, recreational and community spaces and histories told through changing landscapes.
[7] Kate Lepper
Title: The Tree Engagement Appliance
This tree is an Ash. In Aotearoa NZ it is considered a pest due to its tendency to out-compete natives. Globally the genus is in crisis. Drawing on insect colour preference research and biodynamic insect hotels, alongside the symbolic use of Rongoa to reduce the natural advantage of the Ash in the Aotearoa NZ wild, The Tree Engagement Appliance embraces its status as an interloper and invites insects and humans to interact with the tree in a shared-subjective experience.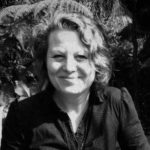 Kate Lepper's work explores the relationship between sensuality and socio-environmental responsibility. With a MFA from the Slade School of Fine Art, London, recent exhibitions include Dead Bug Live, Toi Poneke Gallery, Wellington 2016, Graphics Interchange Format, Focal Point Gallery, Essex, UK 2015, Performance Compost, Kiasma National Museum of Contemporary Art, Helsinki, Finland 2012, and forthcoming in 2017/18, Shonky: The Aesthetics of Awkwardness, a Hayward Gallery touring exhibition at The MAC Belfast, Dundee Contemporary Arts, Bury Art Museum Manchester, and Firstsite Colchester, UK.
[8] Kerry J Scott
Title: Banded Kokopu
These artworks are inspired by the fins of the Banded Kokopu which lives in Moturoa stream. The artist was inspired by the fish's ability to literally climb upstream using its fins, as well as how they are masters of camouflage using their beautiful markings.
Artist Kerry J Scott favours mosaic as her medium, often working in a community art context, with an ecological focus and intuitive approach to her work. "When I'm working on a project I like to explore and follow my intuitive feel. This helps me to be in my inspiration, which fuels my curiosity and enables me to stay open to new possibilities and ways of doing things. I never quite know where I'II end up. But I always end up feeling a deeper connection to the subject when I let myself be taken on this kind of journey." 
[9] Maria O'Toole
Title: Consonance
This sound sculpture is a fragile weave of natural sound and dialogue recorded in Central Park over the past three months.
"While drawing and recording sound in the park regularly over this period I engaged in conversation with the park community around their feelings on the recent government legislation. During this project I became curious about birdsong. My research lead me to some interesting discoveries around local community commitment to native flora and fauna and their stories of changes to the sonic rhythm of this urban park."
Maria O'Toole's art practice is based in expanded drawing and engages with everyday experiences using all the senses. She has exhibited her drawings, which include sound drawings, regularly since graduating with an MFA in 2013 however this is the first sound sculpture to be exhibited. Recent Exhibitions include: The Parkin Award, 2016, Academy of Fine Arts; Wellington Regional Award, Expressions Gallery, 2016; Draw International France, 2015; In Response, Toi Poneke, 2015. She is a current PhD candidate at Massey University and also teaches drawing at CoCA.
[10] Oliver Gedye
Title: Geochime tetrahedron
The Geochime Tetrahedron is an interactive environmental installation made entirely from recycled Copper and Kanuka wood. The viewer is invited to enter and interact with the artwork, to play the chimes and experience the resonance.
A tetrahedron is a regular convex polyhedron constructed by congruent regular polygonal faces with the same number of faces meeting at each vertex. It is a fundamentally stable and strong shape for a structure. Examples of tetrahedrons are found in nature on a molecular level and in crystal structures.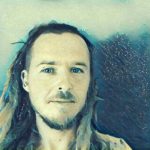 Oliver Gedye is an environment artist who lives in a remote valley in Golden Bay surrounded by old growth forest next to the Anatoki river. He draws his inspiration from nature and has a permacultural approach to life and art, much of his work is interactive and includes sound and tactile elements. Oliver creates installations for festivals and events using natural and recycled materials; he also makes outdoor sculptures and specialised Kauri gum jewellery.
[11] Phillip Silverman
Title: Talk to the walk: a structural narrative on gait
Proficiency in gait or the ability to walk on two legs makes us fairly unique as an animal. This complex skill is often taken for granted while performing activities such as strolling through the park. This interactive presentation explores the story of gait from a structural perspective, using sculpture, comparative anatomy, interactive activities, and ideas about the history of anatomy.
Performance times:
Thurs 2 March: 5.30pm
Fri 3 March: 5.30 pm
Sat 4 March: 11am, 12pm, 1pm & 2pm
Sun 5 March: 11am, 12pm, 1pm & 2pm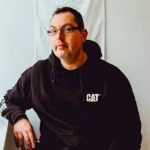 Having worked for almost two decades as a bodyworker and exercise professional, Phillip Silverman has developed a strong interest in the structure of the body as it relates to function in living systems or 'living anatomy'. Contemporary anatomy has focused on morbid cadavers. In contrast, he has become fascinated by an artistic approach of applying design principles to convey life, and the idea that anatomy can provide a structural narrative of lived experience.    
[12] Poppy Lekner Law
Title: Bridge Over Moturoa
Bridge Over Moturoa is a site specific installation of sungrams from the Moturoa Stream. The sungrams catch the light and shadow on photographic emulsion. Moturoa Stream bed is a biodiverse ecosystem that runs through Central Park and then enters the stormwater system before flowing into Port Nicholson.
The artist wanted to capture the ever changing stream and its varied forms and structures. The shadow prints permit glimpses of this stream's past forms. The stream is seen in its past forms and heard in its present form as one stands on the bridge.
Poppy Lekner Law is Wellington artist with a love of the outdoors, nature and science. She has a BSc from Victoria and a BFA (Hons) from Massey, and before her kids were born was head of Photography at Wellington High School. She now works on her studio and site specific practice from her home in Highbury. When teaching, Poppy started working with cameraless photography and exploring objects and spaces with the subtle imprint of sungrams. Poppy has an upcoming solo exhibition at Toi Poneke in July.
[13] Ruby Joy Eade
Title: Skin on skin on dirt, 2017
This work creates a narrative that weaves through the park. Riffing on the format of park signage, the signs act as markers of memory, exploring the teenage experience in Central Park.
"We grew up in this city. These parks. These streets. We found places to experiment, meet, flirt, drink…Escaping parents, curfews, and supervision we grouped in the dark in twos, threes, fours and mores. We pushed our limits, there were firsts and seconds, kisses and tears and fights.  Oblivious to others around us, sometimes scared, always running off adrenaline, testosterone, hormones, hearts beating (and breaking) pushing back the cold with drinks and smokes and each other."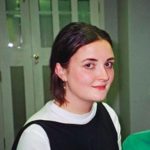 Ruby Joy Eade utilises poetic fragments, isolated from their original context – online forums and social media – to create anxious portraits of contemporary society and the complex relationships which are cultivated both online and offline. Working in various modes including photography, printed material, object based installation, public intervention, video, ceramic and sculpture, the physicality of the work often uses the vernacular language of an environment to subvert and complicate it with affectual and unexpected language.
[14] Shaun Matthews
Title: Water Returns Light
Water Returns Light consists of photographic images layered and hung as fabric banners throughout the park. Each work responds to the area of the park within which it is hung. The work is based on the 17th century Japanese poetry form Haiku, which uses insight, perception or feeling in its construction. Containing seventeen syllables over three lines, each with five, seven and five syllables respectively. In Water Returns Light the syllables are substituted with layered photographs, presented vertically with each layered image replacing one line. The work is a response to the environment, and the audience's response to the work will in turn continue the intention of the Haiku.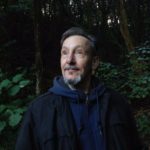 Shaun Matthews is a Wellington-based photographic artist whose work has engaged with New Zealand's native forests as essential living and changing sites since moving to New Zealand from the UK in 2002. Shaun completed a BDes (Photo) 1st class Hons at Massey University in 2013. He is fascinated by nature's ability to create a chaotic yet delicate balancing act while continually regenerating and renewing itself.
[15] Schools Artwork
Title: pūtau tipu (kōtukutuku)
(plant cell (NZ tree fuchsia))
Cells are the building blocks of all living things. For this work, children from five local primary schools have collaborated to create and connect wire cells into a large sculptural structure. Whist making these cells, the artists were thinking about the Kōtukutuku (NZ Tree Fuchsia), which is one of the few deciduous trees native to New Zealand. Central Park is host to a few Kōtukutuku, the world's tallest fuchsia.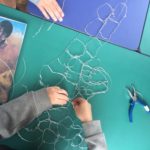 pūtau tipu (kōtukutuku) is a collaborative artwork created by students from Berhampore, Brooklyn, Ridgway, St Bernard's and Te Aro Schools. This project was facilitated by Gabby O'Connor.
[16] Upstream: Friends of Central Park
Title: Web
This web-like structure, made from oversized dreamcatchers, symbolises the many connections within and around Central Park. The artists were inspired by connections in nature, between Central Park and the surrounding area, and between the Friends and the community.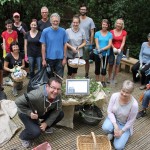 Upstream: Friends of Central Park is a group of volunteers that meets monthly to help maintain park amenities and environs. The Friends also undertake special projects, including the biennial Upstream Art Trail.